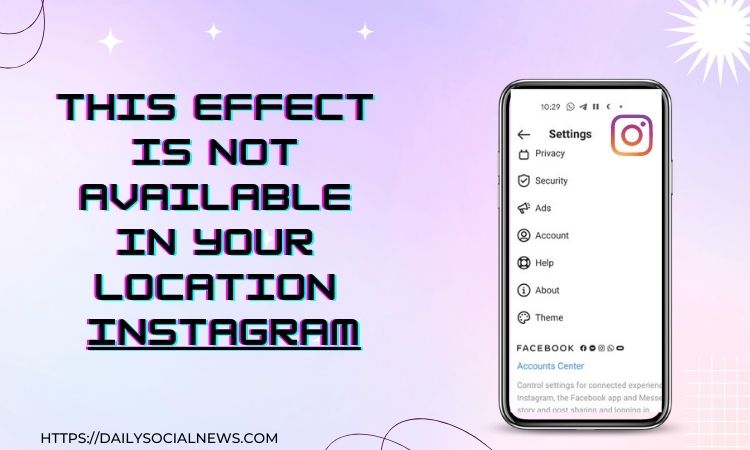 This Effect Is Not Available In Your Location Instagram: 9 Fixes
If you use Instagram, you probably have noticed that the Insta filters are not showing for some users after a recent update. Or an error message says, "This Effect is Not Available in Your Location."
At this time, there is no statement from the Meta officials regarding this issue. Meanwhile, Instagram users are eagerly waiting for some solutions to this emerging problem.
So, are you also looking for some fixes that may assist you in resolving: This Effect Is Not Available In Your Location Instagram? Buckle up and read this guide till the end.
This article has mentioned some workarounds that will surely help you with this issue. Here are nine fixes for this issue. Let'sLet's dig in!
This Effect Is Not Available In Your Location Instagram 2022: What's the reason behind it?
Texas and Illinois are the states with the highest percentage of users who complained about it. But, there is a reason for this.
Instagram filters can drastically change the subject's appearance. The software uses facial recognition and scanning technology for this. Due to facial recognition laws, Meta was compelled to disable Instagram filters there.
The privacy regulations in Texas and Illinois as they currently stand, however, do not allow this technology to pass. As a result, Instagram filters will "temporarily" not be available there.
Meta intends to develop an opt-in system to inform users how the business' facial scanning technology works.
How to Fix Instagram Filters Not Working?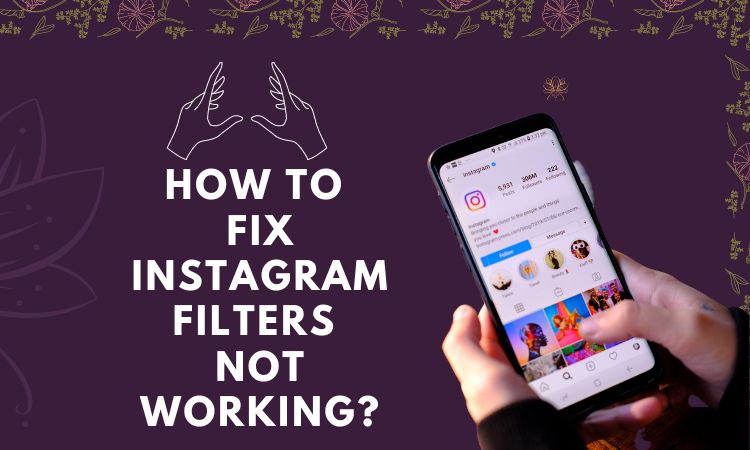 Before diving into our tutorials, take a moment to troubleshoot the problem. Troubleshooting will give you an idea of the root cause of the problem and help you fix it rapidly.
Start with your Instagram update. Go to your phone's native App Store and type Instagram, whether you're using iOS or Android. The app has been updated if you see the option to open. But you need to update Instagram if there is an option of update present.
1-Free up Storage Space
You can face problems like Instagram not working and Instagram filters not showing up if your phone is short on storage. For this, delete unnecessary files and rarely-used apps to free up storage space on your smartphone.
2-Restart the Instagram App
Another way to fix the Instagram face filter not working is to restart the Instagram app.
For Android users:
Go to Settings > Select Apps > Tap Force Stop.
For iOS users:
Swipe up from the bottom of the screen, stop in the middle, and then swipe right or left to find the Instagram app. Finally, swipe up on the preview to close the app.
3-Restart the Phone
Restarting the phone is beneficial when apps crash and do not work for unknown reasons. When Instagram filters disappear, this fix can be applicable and helpful.
4-Clear Cache
Additionally, issues like Instagram face filters not working are a result of the app cache. In this case, you should select CLEAR CACHE from Settings > Apps > Instagram > Storage.
5-Update the Instagram App
When Instagram isn't working correctly, it's always important to check for updates because several errors (which lead to this problem) are usually fixed in the latest versions. Just to the App Store or Google Play Store. Then update the latest versions of the Instagram app.
6-Check Location Permission
Location-based effects are common on Instagram. Therefore, they might not work in a specific location or if there is a problem determining your exact location. Alternative solutions include revoking permission if it has already been enabled or turning on location if it is disabled.
7-Check Time-Zone
Next, Check your Time Zone settings. Location-based Instagram filters are common. Instagram might not recognize that you are authorized to use the filters if you recently travelled, updated the system on your phone, or installed a random third-party app.
Type Time Zone into the search bar in Settings. Check that Automatic is set on your phone. Try manually setting your time zone if it is. Then try using Instagram filters once more.
8-Face and Hands Effect Permission
Turning on the "Face and Hands Effect" permission settings is another tried and true option. You can read the instructions for changing the face and hand effect setting here; however, they are only available in a few places worldwide. Also, you can use a VPN to access the feature for those who do not have it enabled.
Also Check: Video Is Being Processed TikTok 2022- 7 Fixes To Help You Out
9-Reinstall the Instagram App
You can reinstall Instagram and check to see if the Instagram filters show up if the previous fixes do not work.
Why This Effect Is Not Available on Instagram iPhones?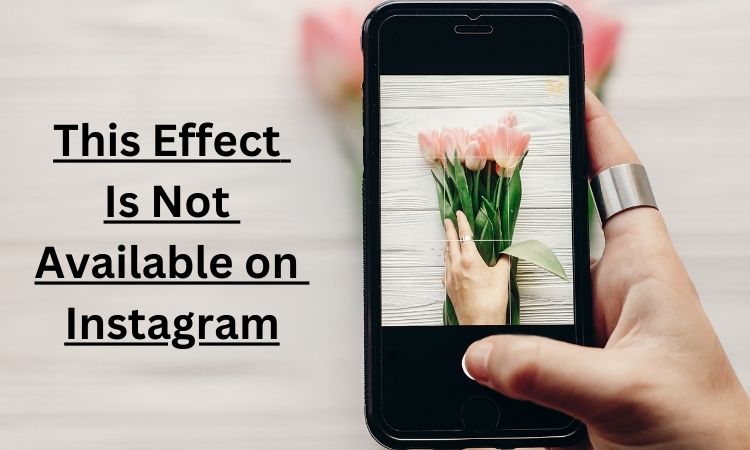 • Go to the App Store.
• Tap "Applications."
• Find the Instagram app and check if any updates are available.
You need to check your iOS device if none of these techniques works. Please note that iOS versions lower than iOS7 are not compatible with Instagram filters.
Go to Settings > General > Software Upgrade to update your operating system.
You can fully experience Instagram effects once you update your smartphone's operating system.
Summing It Up
The Instagram filters might not be working for a variety of reasons. Many users are having trouble with a recent update where they can't access filters in their location, but everyone else can.
To overcome the error "This effect is not available in your location Instagram," try the above fixes. If none of them works, you can report the problem to Instagram.
Also Check: What Does Instagram User Mean In DMs 2022? Am I Blocked?
(FAQS)
Why does Instagram say this effect is not available in your location?
You must download and install a VPN service after clearing the data and cache from the Instagram app. Connect to a different server now, open the Instagram app, login in once more, and check if the filters are back.
Why are some effects not available on Instagram?
Instagram will have issues if your phone is packed with cached data, apps, and images. Select Storage from the app settings on your device. Make sure Instagram has enough space to function correctly.
How do I turn on location for filters on Instagram?
Leave the Instagram app and go to the Settings app on your iPhone:
Tap Location Services, then tap Privacy.
Tap Instagram as you scroll down.
To choose location access, click Never or While Using the App.